Ludwig Pöll GmbH is a family business in the fourth generation. The Austrian timber construction business has diverse specialisms such as house and roof building, carpentry, and sheet metal work. Brothers Wolfgang and Matthias Pöll are currently moving into leadership roles at the family business. I sat down to talk with one of the brothers, Engineer Wolfgang Pöll MSc (Technical), to discuss all things business, timber building, and using Archicad and ArchiFrame.
Recently, the company has become increasingly specialized in timber building and prefabrication. The company excels in timber structural modeling, mass timber and solid wood building, as well as building using CLT (cross laminated timber) and multi-layered boards.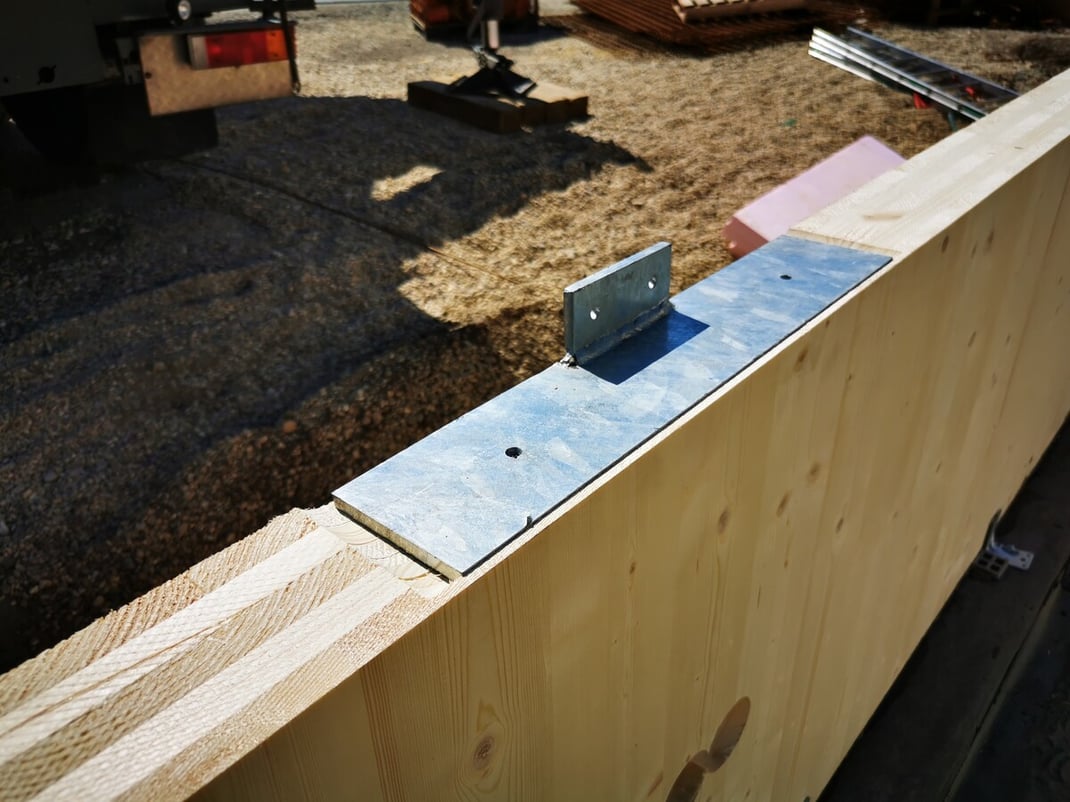 © Ludwig Pöll GmbH
Wolfgang Pöll and his brother Matthias Pöll both studied construction technology at Graz's University of Technology and are both currently stepping into leadership roles at the company. They both work on prefabrication, production design, and production – for which they use ArchiFrame. As a company, Pöll always aims to stay ahead of the game when it comes to technology and innovation, and according to Wolfgang Pöll, it is this technologically innovative spirit that makes the company so special.
A family business since 1933
The Ludwig Pöll GmbH story started back in 1933 when Erich Pöll founded Spenglerei Pöll – otherwise know as the Pöll's sheet metal workshop, running the business out of his cellar in the village of Dürnkrat. In 1959 the company was officially registered as a sheet metal plater by master plater Ludwig Pöll. A new phase in company history began just six years later when Pöll built its first sheet metal shed.
In 1976 the company expanded its business by registering itself as a roofing outfit. The next generation continued as sheet metal platers and roofers through 1982-1983, and about five years later the company moved its location to its current headquarters in Dürnkrut. Here, in 2000, the company expanded its business further when it registered itself as a carpentry outfit and purchased a Hundegger CNC machining tool a year later. When brothers Wolfgang and Matthias Pöll graduated as construction technology engineers from the University of Graz and joined the family business in 2017, the future of the business seemed secure.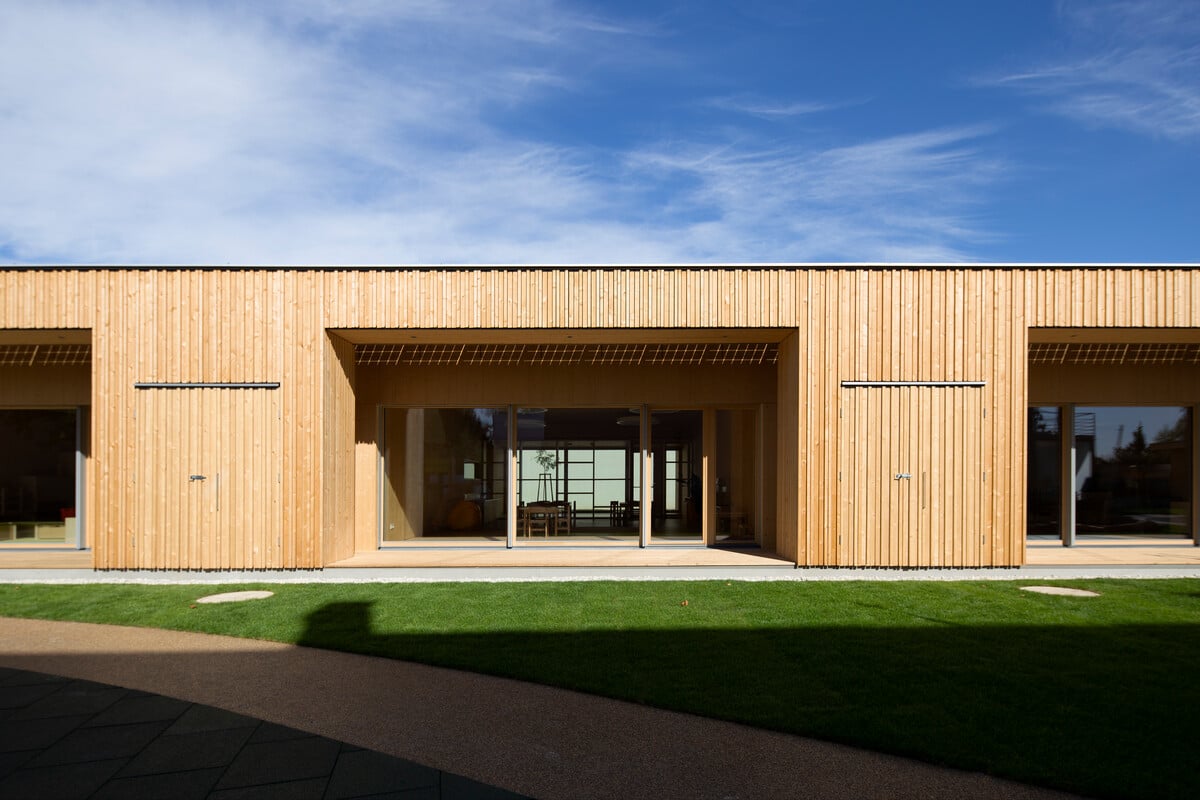 Kindergarten Deutsch-Wagram. © Juri Troy
Today, the company employs 35 people who work in timber construction, roofing, sheet metal, and the building of flat roofs. The company's roots are in sheet metal, with roofing being added as a business arm in 1976. Since being added to the company portfolio in 2000, timber construction has grown to be one of the company's biggest drivers of revenue. The versatility and changeability that naturally come with working in a business with a range of specialisms, is what Wolfgang Pöll loves about his work the most.
Wide range of building elements and projects – from dwellings to day-care
Currently on Wolfgang Pöll's desk there are three detached house design projects in the production design phase. His brother also has multiple detached house projects in the production design phase on his plate. However, as well as houses, the company has also been very successful at designing and executing larger constructions projects such as kindergartens.

Kindergarten Deutsch-Wagram. © Juri Troy
In their projects the brothers use a mix of building methods to enable them to reap the benefits from different methodologies and materials. For example, they will very rarely solely use mass timber building processes. Instead, they prefer to mix a wide range of building methods such as prefabricating walls and combining timber structural walls with ceilings made from cross-laminated hardwood: "It is a mixture of wood frames and CLT. This means that we are always creatively combining different methods. We install the CLT walls on-site and use our factory to produce our prefabricated exterior wood frames that we then hang on the CLT wall at the construction site. It is a type of mixed-element method," Wolfgang Pöll describes.

Kindergarten Deutsch-Wagram. © Juri Troy
Building with mass (solid) wood elements has many benefits according to Wolfgang Pöll: "We love building with large timber elements as it enables us to have good tensile strength across relatively large spans of our ceilings, allowing us to use statistically efficient cross-sections. Especially in flat roof building, mass timber elements are essential as it is a lot more structurally safe to build them in this way compared to timber frames. Also, you will simultaneously get both a roof and a ceiling ready from the underside."

© Ludwig Pöll GmbH
"Building with mass timber elements also has the added benefit of giving you a building material with fewer lattices and joins, which is structurally more sound than something like timber frames. When it comes to damp control, building with larger timber elements is also more efficient," Wolfgang Pöll continues to enumerate the benefits of mass timber elements.
State kindergarten Landeskindergarten Deutsch-Wagram
One project that has particularly stuck in Wolfgang Pöll's mind is the building of a state kindergarten in Lower-Austria — Landeskindergarten Deutsch-Wagram: "A fantastic project that immediately springs to mind is the Landeskindergarten Deutsch-Wagram kindergarten that we built the other year using CLT wood and an insulated wood frame edifice. It was a project where wood was used in a very versatile way. The project contains a variety of timber edifices, and wood as a material is very prominent throughout. We won the Niederösterreichischer Holzbaupreis in 2021 with this project: Lower-Austria's wood building prize is given out to the best timber construction project undertaken for the regional authority."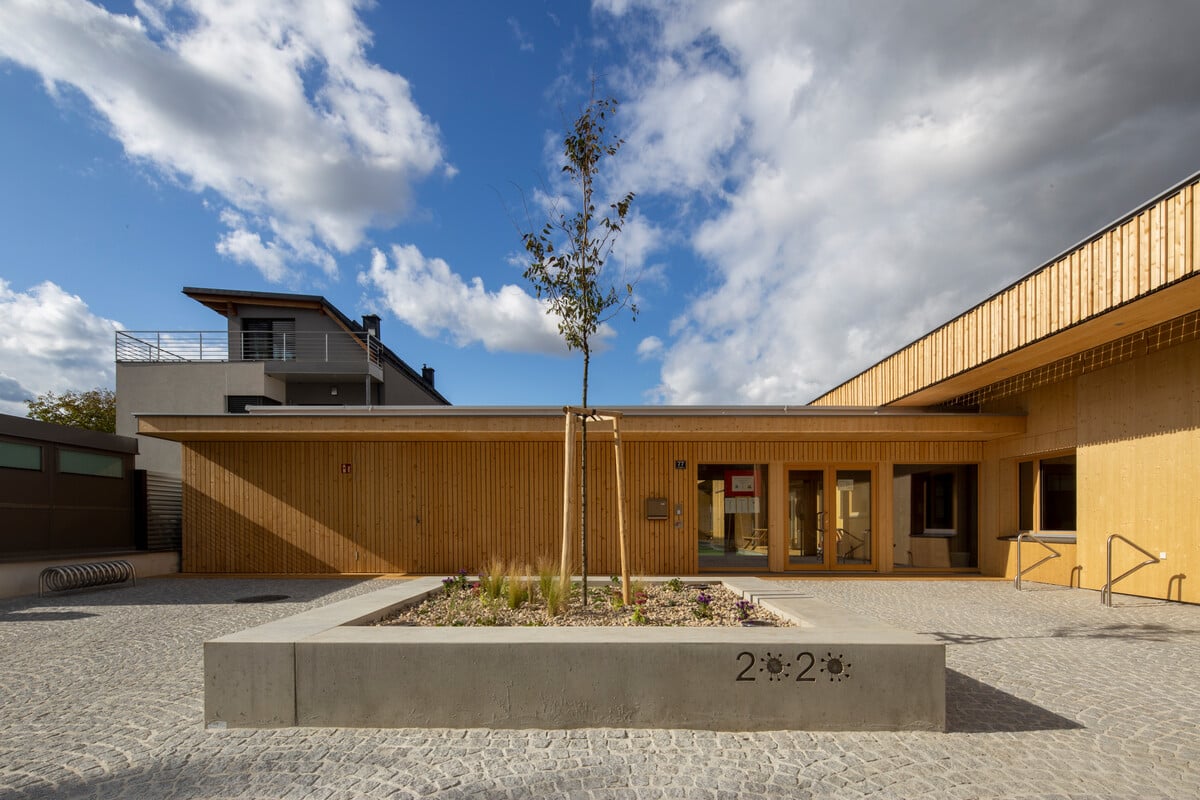 Kindergarten Deutsch-Wagram. © Juri Troy
The Deutsch-Wagram kindergarten is made from local spruce timber and is "an ecological new build that is characterized by a peaceful one-storey structure that is perfectly optimized to serve the growing children thanks to the healthy inside air and the space's open, friendly architecture", is how the judging panel justified their decision.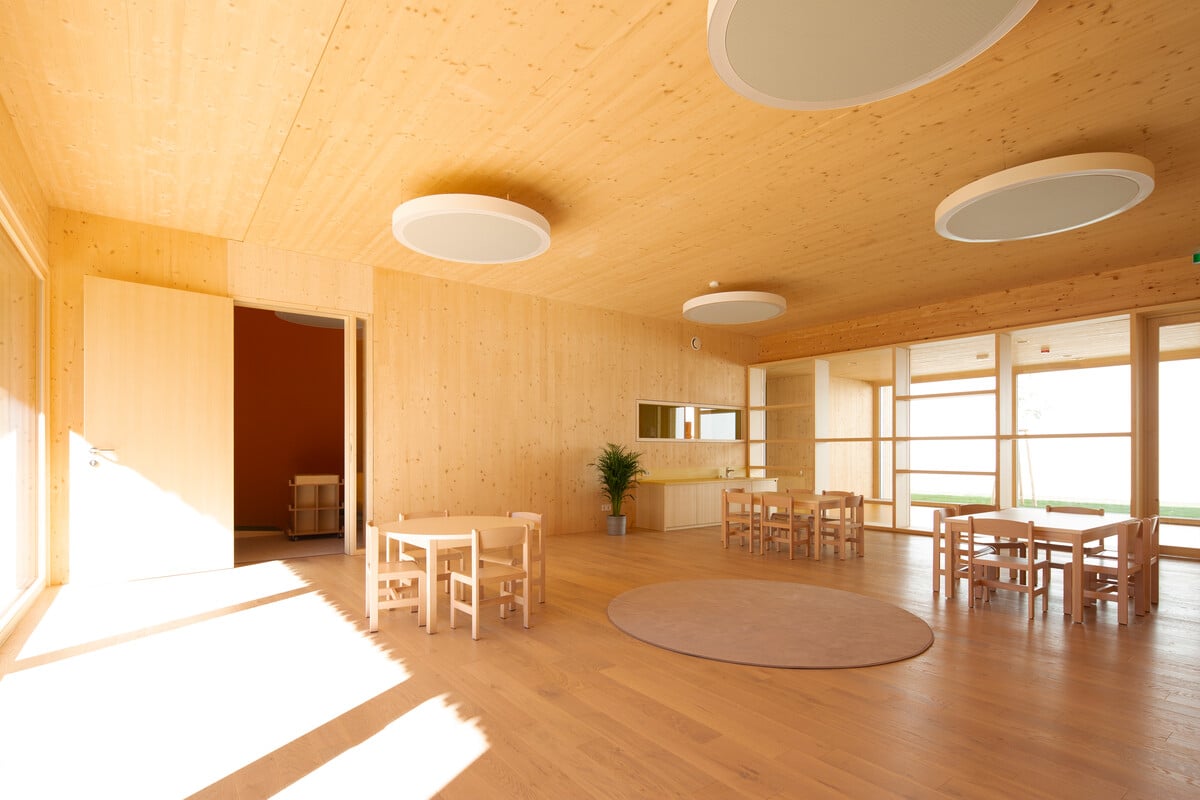 Kindergarten Deutsch-Wagram. © Juri Troy
Sustainability is important
An important theme for Ludwig Pöll GmbH is protecting the environment. This is something that can be seen throughout the company's processes, for example, in the fact that they only use local, Austrian wood. Sustainability also has a wider impact on building material choices – something where the company is always striving to find seamless solutions. "We try to make it clear to our clients that a flat roof is far too often built using Styrofoam, and we prefer to avoid using it altogether. In general, we avoid any building materials with questionable health implications. For example, for insulating frames, structures, and roof construction, instead of mineral wool, we either use soft wood fibres or cellulose," Wolfgang Pöll describes the company's approach to sustainable building.
Everything in one software program
When brothers Wolfgang and Matthias Pöll joined the family business, they were on the hunt for an all-informed software program that they could use across the building design lifecycle, from drafting and collaborating, right through to elevation drawings and production. This desire to have an all-informed system is what let them to choose Archicad about seven years ago – and they then added ArchiFrame to the mix 5-6 years ago. Back then, they were one of the first companies in Austria to use ArchiFrame. To help with software adoption, they also started a collaboration with the developers of ArchiFrame, eventually helping ArchiFrame become more established throughout Austria. They assisted with the dimensioning of building materials and a partial German translation of the software.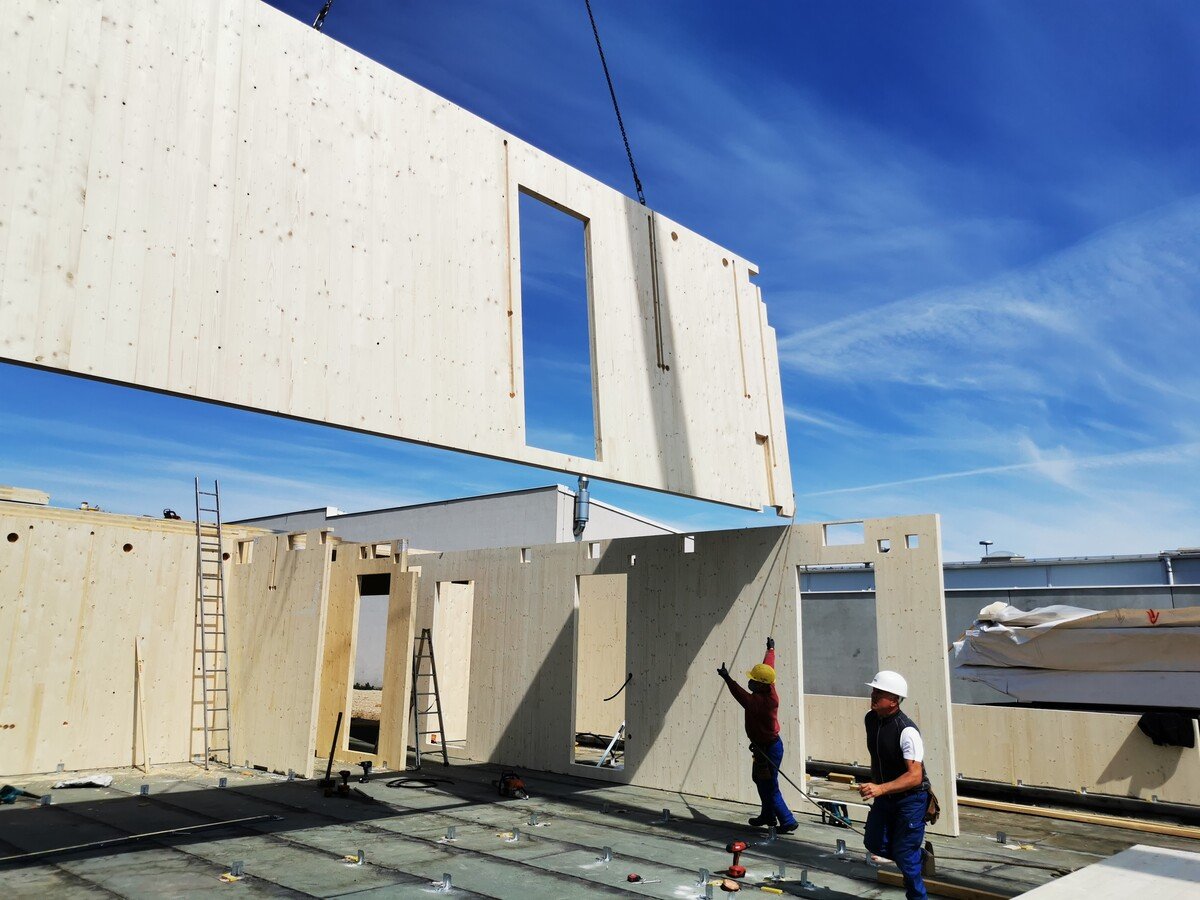 © Ludwig Pöll GmbH
Today, after five years, the use of ArchiFrame has become standardized, and Wolfgang and Matthias Pöll use the software program in all their larger projects: "We design all our house-building projects using ArchiFrame. If it's just a simple roof truss or a garage we use another program for designing that has uniquely been developed for designing roof trusses. That software is one that we have been using since before we selected Archicad, and it is our second software line we use when the project involves just roof trusses and a garage, and not the production of an entire house," clarifies Wolfgang Pöll when it comes to using different software programs for different building projects.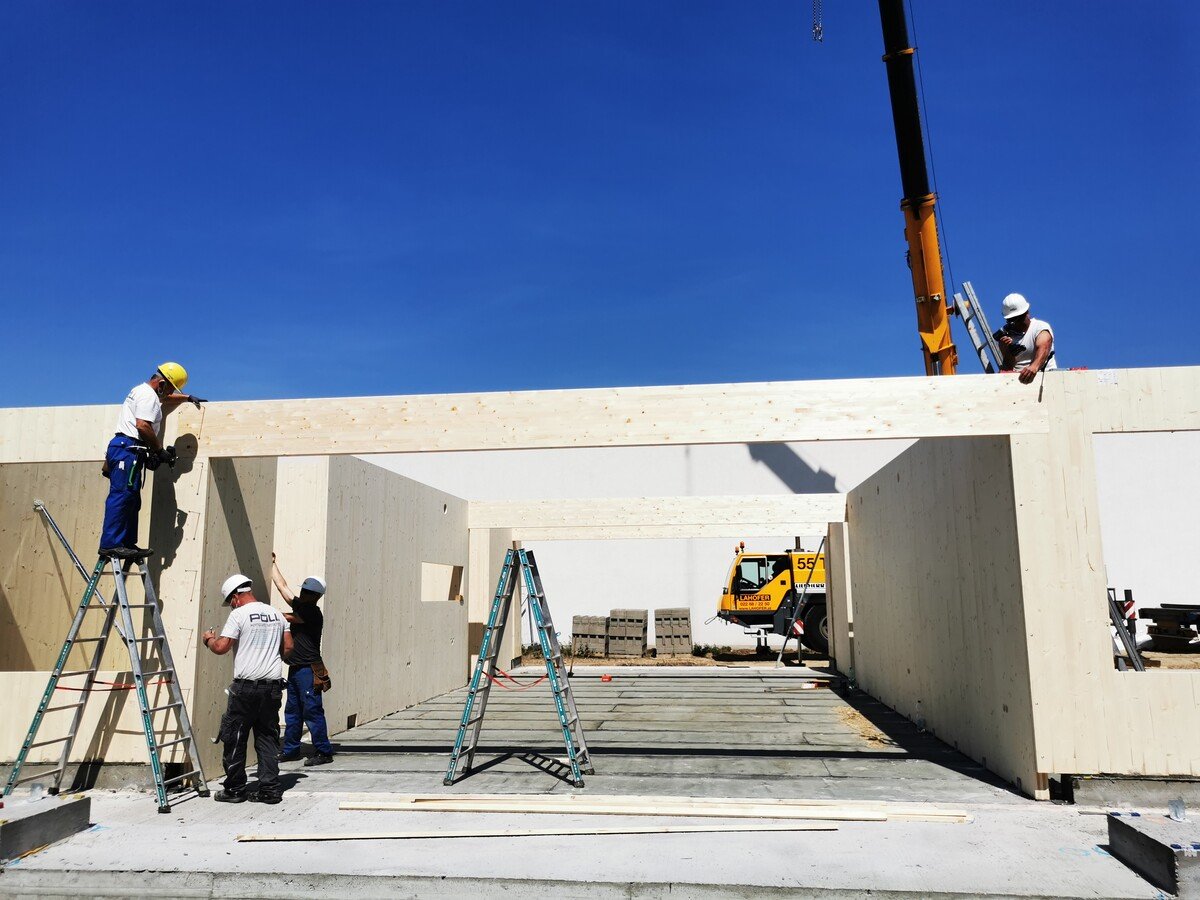 © Ludwig Pöll GmbH
As well as enabling the business to process all the different construction design phases in one software, ArchiFrame brings a whole host of other benefits: "ArchiFrame has the edge in the sense that it is relatively easy to use as it has the same functions that are already familiar from Archicad. Once you know Archicad, you will quickly be able to figure out ArchiFrame. As with all other similar software, at first you must get to grips with ArchiFrame's logic, for example how a building element is created. After that, you've got the system down and the process will just be one of repetition. I also value ArchiFrame's relatively open structure which means that I can edit the UI for the underlying software myself once I have got to grips with the programming language" Wolfgang Pöll summarizes the benefits of Archicad and ArchiFrame.
In their design work, the company also leverages ArchiFrame's relatively new mass timber feature, known as CLT (cross-laminated timber). So far, Wolfgang Pöll has had very good experiences using this new feature: "Right now I am working on the third project that leverages that function, and I think it's really, really good."
This blog was originally published here: https://www.nordicbim.com/fi/references/why-combining-mass-timber-and-wood-framing-is-a-good-idea