JVR-Rakenne Oy offers the design of massive wood apartment buildings, the production of spatial units and the construction of apartment buildings, all under one roof. I have talked to  Jaakko Vänttilä (M.Sc. in structural engineering and architecture) about the company, massive wooden module construction and the spacial unit technique.
JVR-Rakenne Oy was originally a construction company founded in 2013. At the beginning of its operations, the company made concrete apartment buildings. The change came in 2015, when the apartment building Jyväskylän Puukuokka, build by the company, won the Finlandia Award in Architecture and the Puupalkinto Award. Jyväskylän Puukuokka I was the company's first wooden apartment building made of CLT spatial units. It was the first of three apartment buildings build in 2014. Since then, JVR-Rakenne has only build massive wooden apartment buildings. "Jyväskylän Puukuokka is one of our best-known references. In addition to Puukuokka I, who more houses were build there. There are three buildings next to each other," Jaakko presents the company's first massive wooden apartment building project.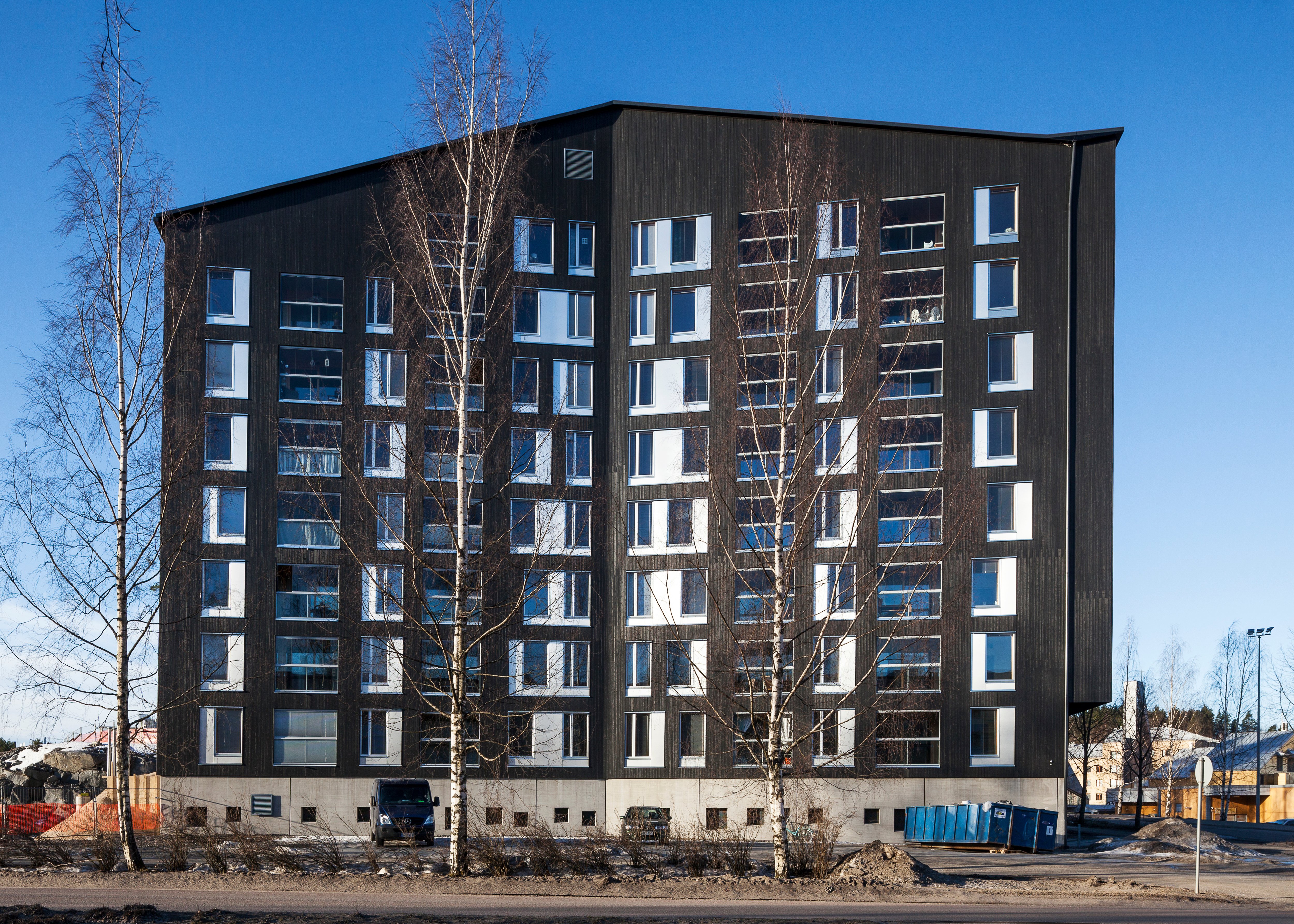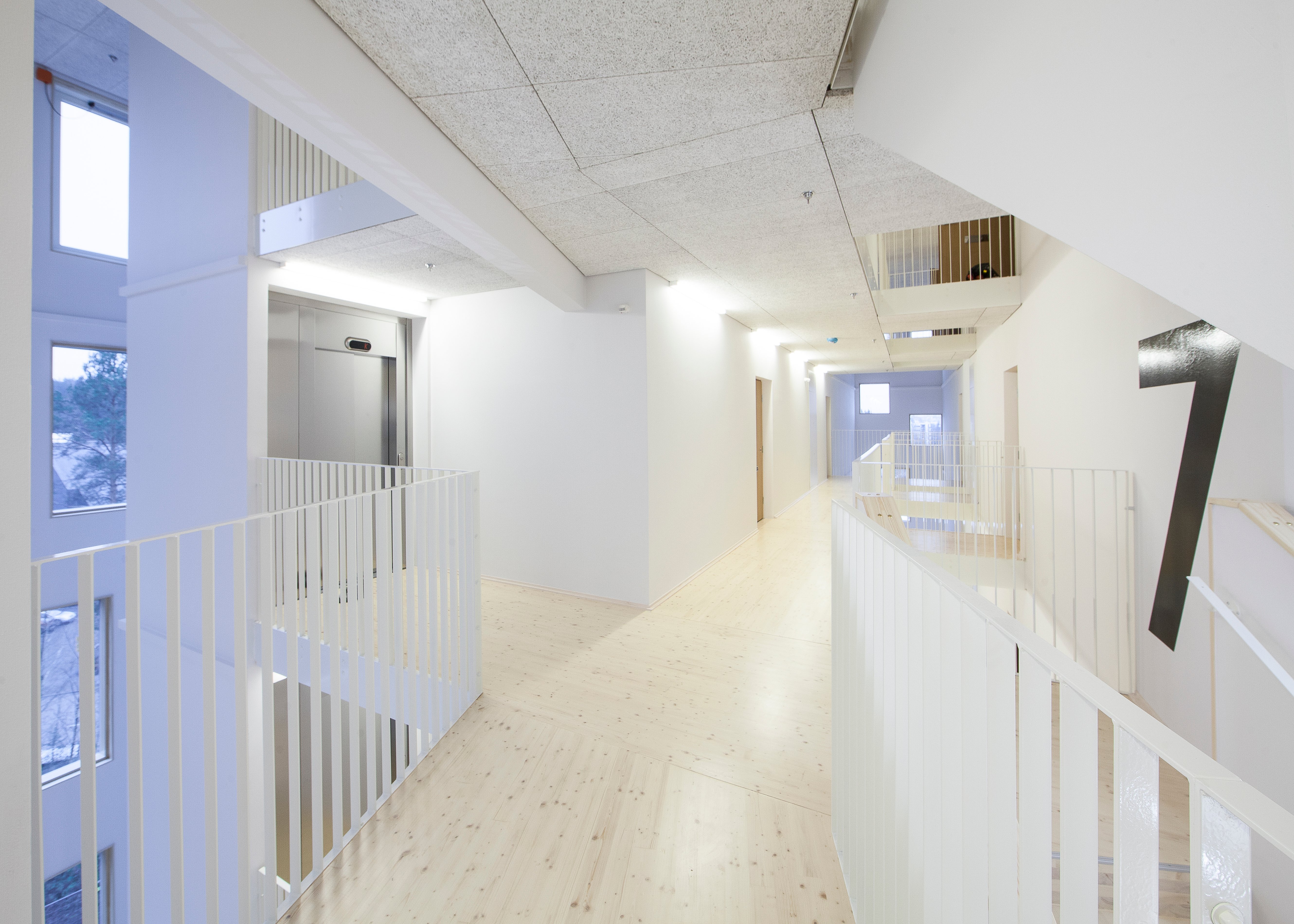 Jyväskylän Puukuokka I was completed in 2014 and was the company's first wooden apartment building made of CÖT spatial units. Pictures: Mikko Auerniitty
Three companies became one comprehensive entirety 
Jaakko Vänttilä joined in 2019, after he had worked as an architect in a construction company and a design office for about ten years. In 2019, he was involved in founding the design company JVR Plus Oy. JVR-Rakenne Oy became a partner in the new company that designed massive wooden CLT apartment buildings. 
In 2021, JVR-Rakenne Oy and JVR Plus Oy decided to merge, and ProModules Oy, a manufacturer of spatial units, also became part of  the joint venture. The merger took place in early 2022 and the company has operated under the name JVR-Rakenne Oy since the beginning of the year. When the company combines a design company, a spatial units factory and a construction company under the same name, it is able to offer the entire package from design to the finished apartment building. However, external consultants are also used in the design.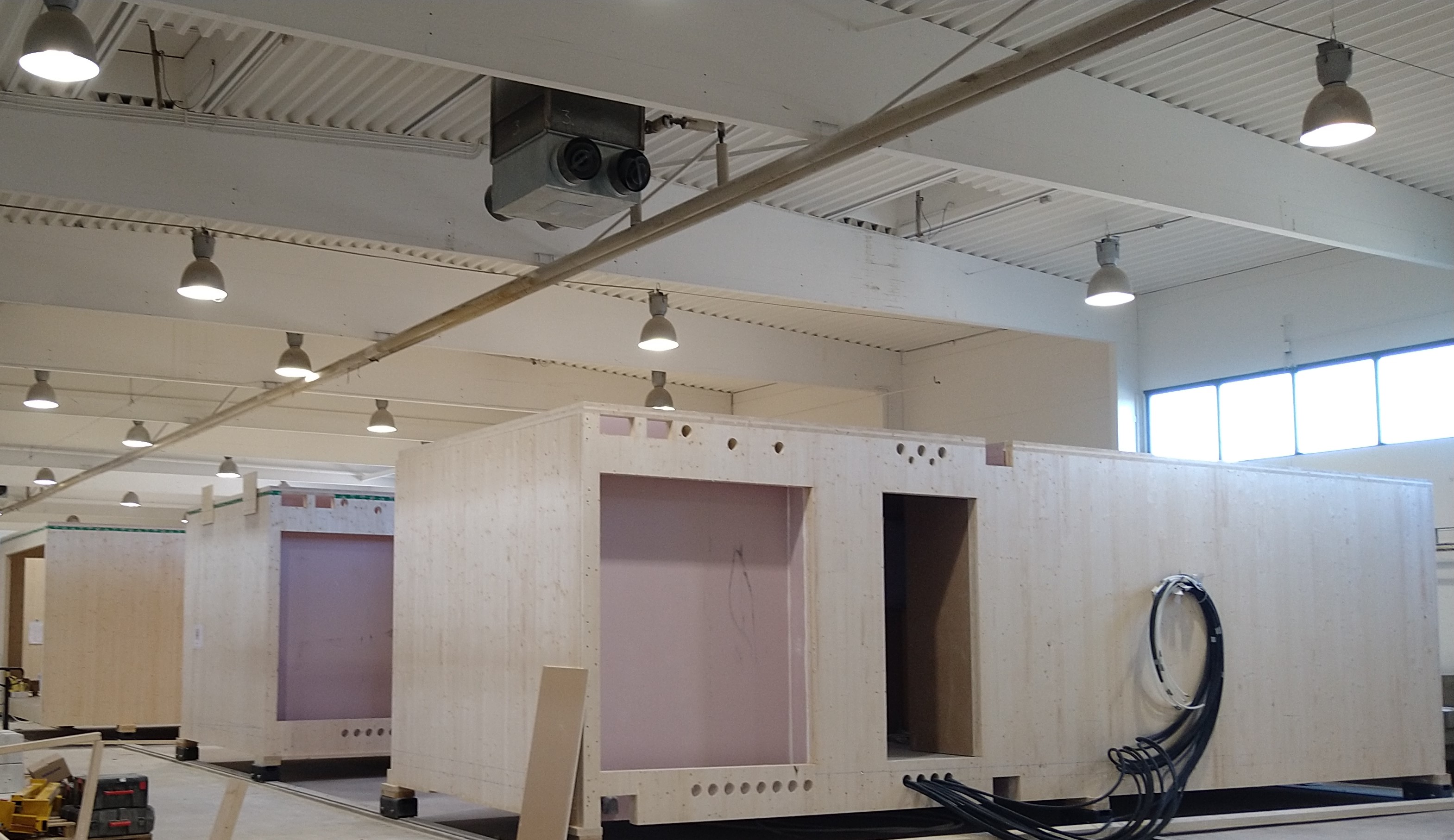 Manufacture of spatial units at the factory in Kauhajoki. Picture: JVR-Rakenne Oy
To be able to offer the entire package is one of the distinguishing factors compared to other similar companies. Another distinguishing factor is that the company has focused only on residential apartment buildings made of CLT spatial units. "We do not do anything else. We only make residential apartment buildings using CLT spatial units. And when we focus on that alone, we can say that we are the best in that field", Jaakko tells. The company's goal is to build the world's best ecological homes for Finnish citizens.
Massive wooden construction is ecological 
JVR-Rakenne focuses on wooden apartment buildings build of CLT spatial units and does not use other materials for frame structures except concrete foundations. CLT or Cross Laminated Timber means a wood panel made from gluing together layers of solid-sawn lumber. "The advantage of CLT elements is that we get a rigid building frame and can easily make eight-story or even higher apartment buildings with the help of massive wooden CLT panels alone," Jaakko summarizes the advantages of using CLT panels. 
Plentiful use of wood is a good solution concerning carbon sequestration. Massive wooden homes are a healthy and sustainable option for residents, nature and society. Ecology is indeed very important for JVR-Rakenne and its operations. The company uses to the mainly local Finnish wood in its apartment buildings. Some wood is also imported from Latvia.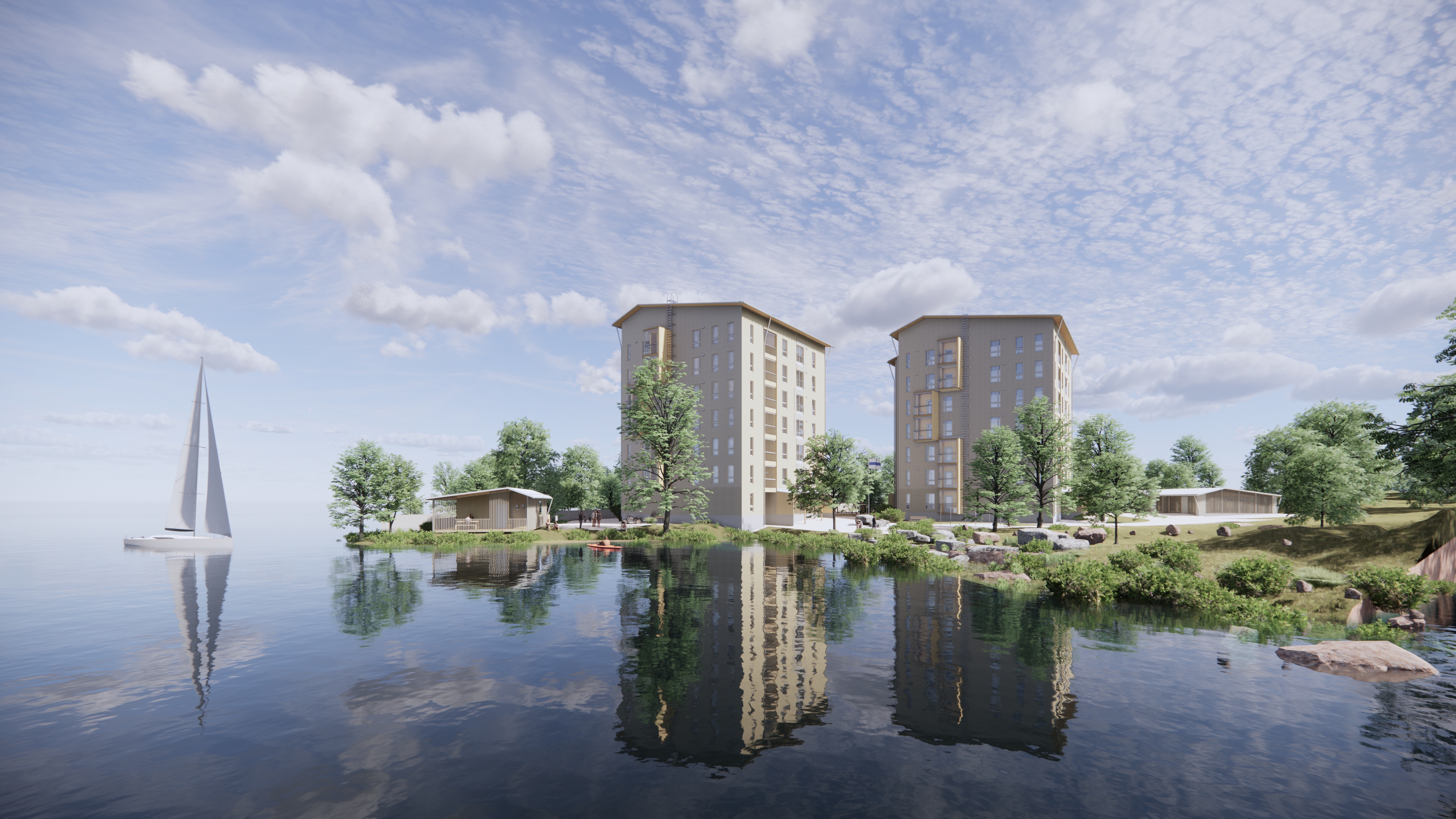 The project of two seven-story apartment buildings in Kuopio is the first project in which JVR-Rakenne Oy is fully responsible for the design. Illustration: Arkkitehtitoimisto Kanttia 2 Oy
In addition to use wood as a building material, the importance of ecology can also be seen in the fact that they also think about the recyclability of building components when designing wooden apartment buildings. "When we stack blocks on top of each other using the spatial unit technique, our vision is that we could disassemble them in the same way. Like this, we could, for example, take one apartment out of the house, lift it down, upgrade the technology and then move it to a new location for a new use. This is the vision we have: that we are able to reuse these homes with the latest technology even every 50 years. For example 50 years in one place, then it is renewed, the 50 years in another place, renewed and again 5r0 years in the next place", Jaakko tells about the company's ecological vision. 
Under the right conditions, wooden buildings can last for hundreds of years. This is shown, for example, by the log churches built in Norway in the 17th century. Ecological thinking is not only about building and reusing spatial units, but at the end of a building's life, it is possible to reuse and eventually ecologically dispose wood material by burning it as part of the energy production.
Ecological homes for Finnish citizens
JVR-Rakenne's projects are mainly in the Helsinki metropolitan area, but also in other major cities in Finland. In addition to the Helsinki metropolitan area, wooden buildings have so far been built in Lahti, Jyväskylä, Kuopio and Tampere.  
In spring 2022, an eight-story massive wooden modular apartment building will be finished in Kirkkonummi's Masala for Kirkkonummen vuokra-asunnot Oy, and it will comprise 85 apartments. One wooden apartment building is currently under construction in Lahti as well. The project is currently in the process of producing spatial units at the factory and preparatory work is done on site. A project of two seven-story apartment buildings is now underway in Kuopio, one of which was completed last summer and the other is under construction and will be completed this year. The project in Kuopio is one of Jaakko's meaningful ones, as it is the first project in which the company is fully responsible for the design. In addition to these sites, among others two large block sites are planned, one in Pasila, Helsinki, and the other in Jyväskylä, as well as a wooden apartment building for the housing fair in Loviisa. 
"Last year, a 13-story wooden apartment building for the Helsinki Student Housing Foundation was completed in Tapiola, Espoo. It is the tallest massive wooden apartment building we have build so far. It has 12 residential floors and upstairs, on the thirteenth floor, there are among others common areas and sauna facilities," Jaakko presents the company's highest building to date.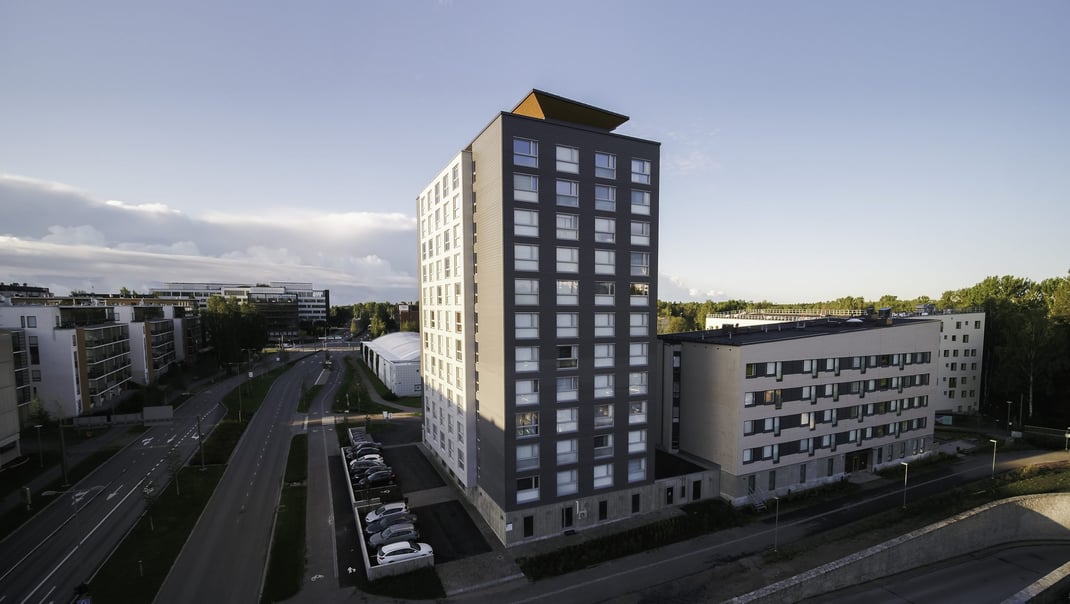 Hoas Tuuliniitty, a 13-story wooden apartment building in Tapiola, Espoo. Picture: Miika Ullakko
Building Information Modeling as the basis of everything 
Ever since the design company was founded, they have used ArchiFrame as design software. Jaakko has used the software in design also before. 
"We chose ArchiFrame because it is an extension to Archicad. We have noticed that the most architects use Archicad, and we want to minimize remodeling when we move from one design field to another. When an architect designs in Archicad, we put the model directly into use and build more based on it. We do not take a model from another system and build a new model in another system, because that causes errors and the quality deteriorates. Our idea is to use one model as efficiently as possible. That is why we use ArchiFrame in every project. Basically, we have a requirement that the architects use Archicad so that we do not have to remodel anything," Jaakko summarized ArchiFrame's choice and advantages. "In practice, this principle is not always fulfilled, because some architects use other systems and Archicad is not yet used by structural, HVAC and electrical designers so much, but we take IFC models from them."
According to Jaakko, the best thing about ArchiFrame are the software's extensive and versatile editing options: "If you can not do something specific automatically with ArchiFrame, there is always a manual way to do it, in one way or another. You won't get stuck because the system is not able to do something because that kind of feature is not built, but you will always find a detour to it in one way or another. And finally, it is a system with good usability and very versatile features."
In their work, they also take advantage of ArchiFrame's relatively new CLT feature. According to Jaakko, the system is good and functional. Of course, there is always room for improvement. But there is a solution to this as well, as ArchiFrame users can develop the software together with the product developer. "We have presented several development proposals and they have also been implemented. In a way, this means that the software is developed together. We implement the design and give ideas for development and then we communicate them to the software developer, and he strives to implement them," Jaakko says with satisfaction. 
Many steps – one entity
JVR-Rakenne Oy's designers have created their own template suitable for the design of wooden apartment buildings and their spatial units. In addition to this, they have created design guidelines for architects on how they should do design, as the company's designers directly adopt the architectural model and use it in further design. They thus have certain requirements for the architectural model in order to make the work as straightforward and flawless as possible. 
The design consists of many steps. The designers first design the whole and the outer look of the building and then break it down into parts. First, they form the spatial units and then they design each unit element by element, i.e. for example each wall, ceiling and floor separately. The designers need to make very detailed plans with many steps. Among other things, they make detailed manufacturing drawings for the factory of each element and each spatial unit of a wooden apartment building. In additional, they prepare mounting plans for the entire apartment building for the construction site.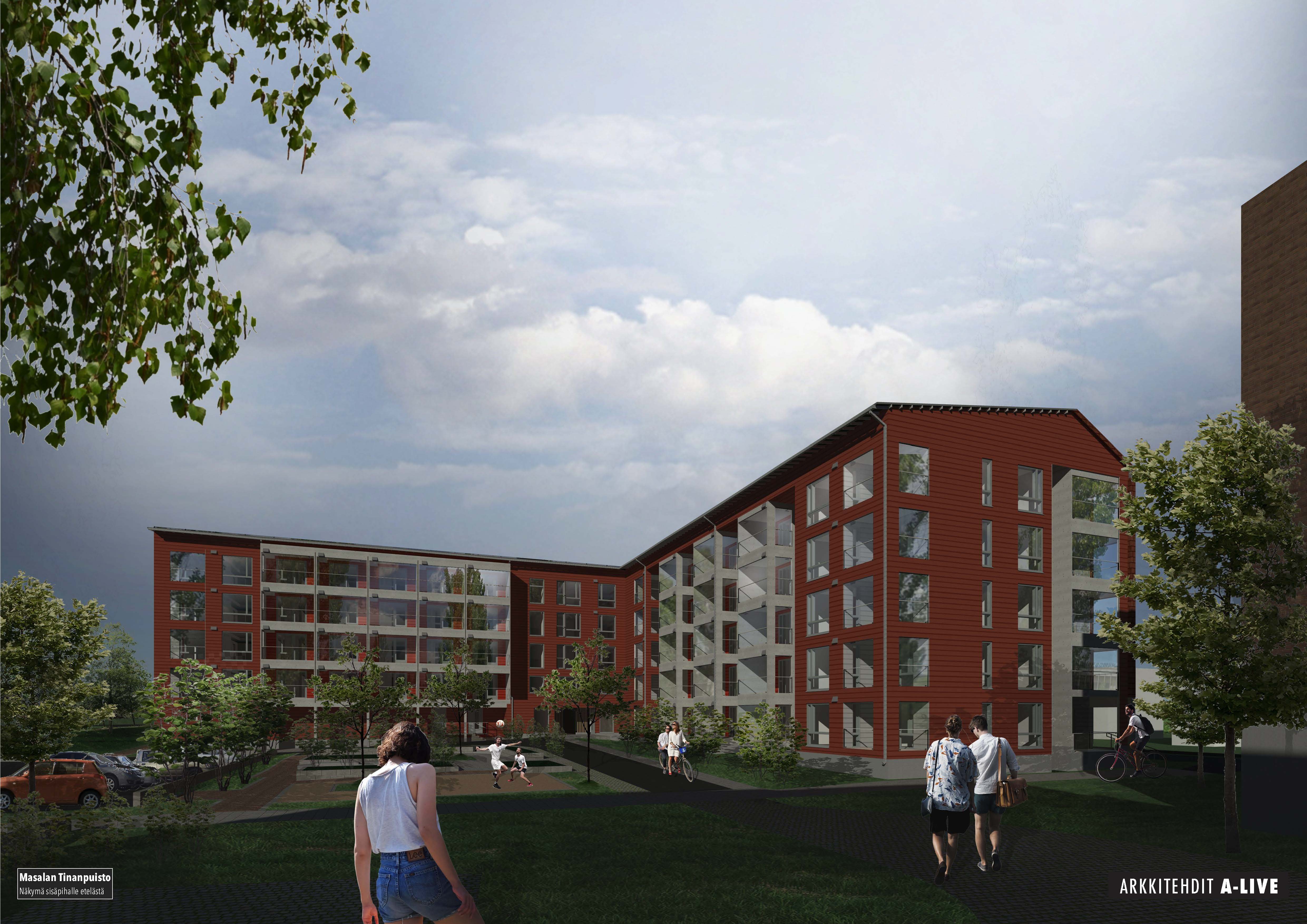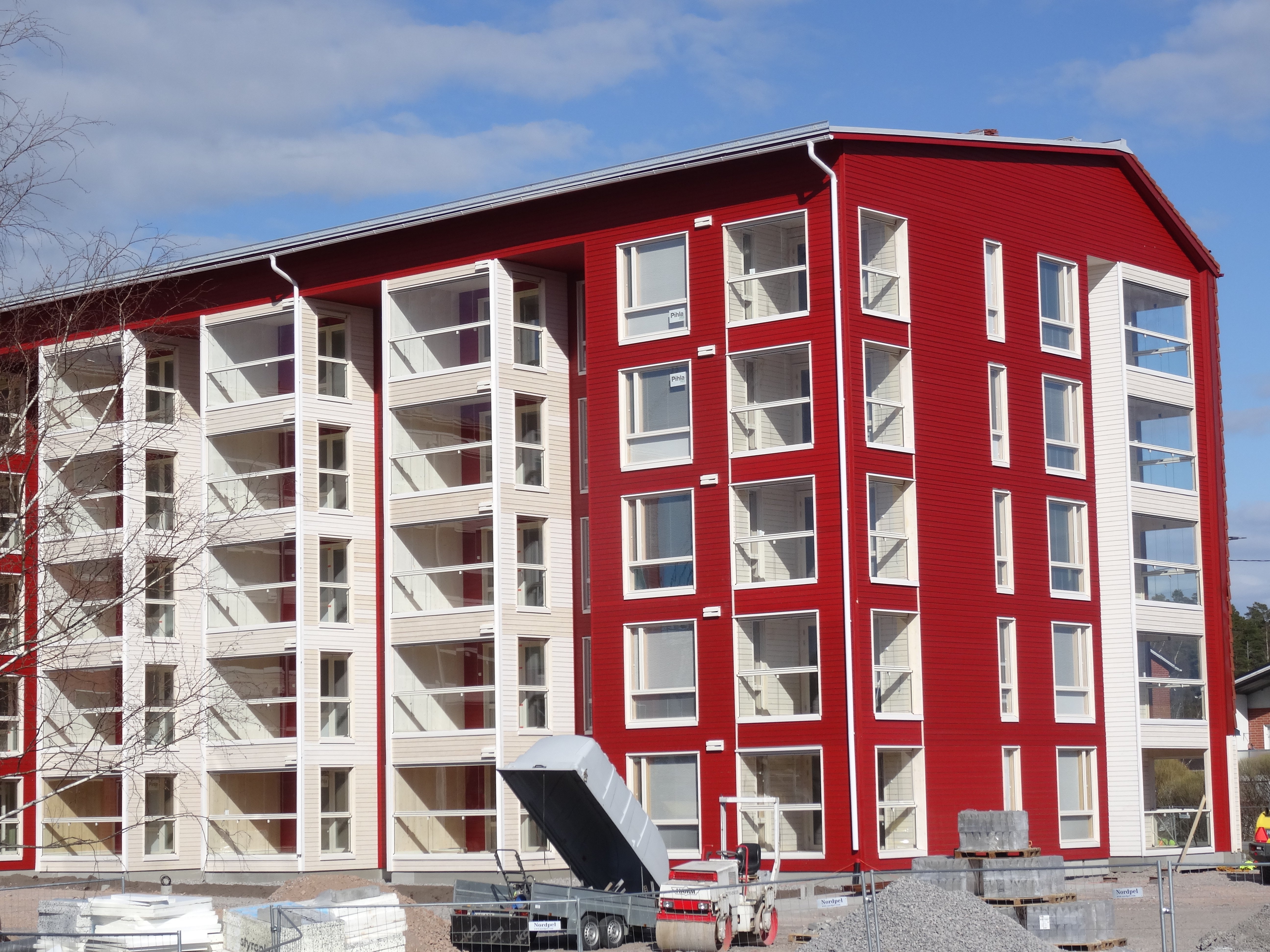 In Kirkkonummi's Masala an eight-story massive wooden module apartment building will be finished in spring 2022. Picture: JVR-Rakenne Oy
"The design of spatial units requires that we first design the outer shape of the building, then the structures, all the technology such as drains, water pipes, sprinklers, ventilation and other technology. After all, our design brings together all areas of design. Of course, someone else will design the implementation principles of the technology, but we will then model them into the system so that we can make production drawings from them," Jaakko describes the versatility of the design work. 
Jaakko reminds that the use of a building information model is the design of wooden apartment buildings brings many other benefits than to show the 3D model and the outer shape of the building. There is a lot of information in the building information model that is very important. JVR-Rakenne thus seeks to utilize all the property information in the model. One point where property information is utilized, is that the designers create ready-made machining images for the CLT panel factory. Based on the building information model, the factory workers are able to program the factory's machines in a way that the machines and robots can machine CLT panels automatically. 
This blog was originally published here: https://www.nordicbim.com/fi/references/massive-wooden-apartment-buildings-from-design-to-realization