How does Péter Paalanen see the role of creativity in prefabricated building design now and in the future?
Péter is an architect with over 15 years of building experience around the world. He is an Archicad & ArchiFrame specialist and works on customizing ArchiFrame and supporting its users around the world. He is also leading the panel of judges for ArchiFrame's Prefab 2030 architectural competition.
Architecture reflects life
As an architect, Péter Paalanen sees building as a creative act like any other, although he admits that the wider public may not recognize it as such. Usually, not until a building breaks the norms, do people sit up and take notice. From this perspective, Péter sees that the past three decades have been by far the most creative period in the history of architecture. But as buildings struggle to grab our attention from left and right to play the lead role, it often turns out as chaotic and confused scenery. There is also a danger of losing the core values of architecture and design:
"While creativity can be there in abundance, some of the higher faculties of architecture, such as harmony and the human scale, are lost. Creativity in architecture should not, and cannot be, the artist's pursuit of self-expression, but rather a vigilant attitude of constantly questioning the validity of one's artistic choices. and a thorough reflection on the life that might and might not occupy the spaces to be", Péter sums up.
Every assignment contains its solution
When asked what comes first in the creating process, creativity, aesthetics or functionality, Péter finds that creativity and functionality are inherent in each architectural assignment. The aesthetics seem to more or less naturally unfold along the process. Therefore, the assignment itself also contains the solution. He approaches the process of creation as a whole, where all key elements are simultaneously present.
"As Michelangelo, the superman of the arts (not least of architecture), said: 'The sculpture is already complete within the marble block, before I start my work. It is already there, I just have to chisel away the superfluous material'", he quotes.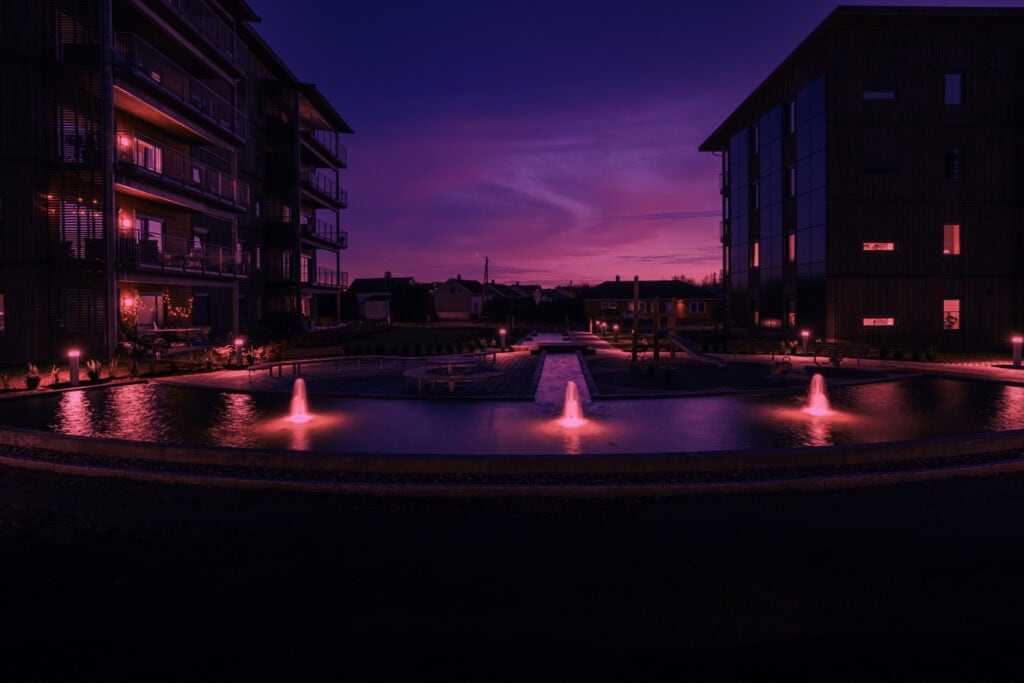 Prefab – is there a room for creativity?
Prefabricated building design is often fueled by cost and time-efficiency, even the hunt for maximum profit. Rather than just overcoming obstacles, Péter challenges architects to build bridges when they encounter assignments where combining creativity and profitability is paramount: "Naturally, a creative mind is always able to find more efficient and profitable solutions, though it's easy to disregard aesthetics and compromise on them in the process of streamlining. I'd say it's here where creativity is put to test: to create good, healthy and inspiring surroundings while keeping the cost competitive," he says.
Prefabrication can solve housing affordability issues and give communities a flexible and customizable space to live. Reduction of building costs is one the most obvious benefits of prefabricated and offsite building, but by no means the only one. If prefab is used creatively to its full potential, it can bring synergy between neighbors, provide the means for communal spaces, and help pave the way for self-sufficiency – even in food production. "The more sensibility we invest into the creation of the built environment, the more there is to be found once created. Prefab can either facilitate it or hinder it," Péter states.
The biggest challenges in prefab come from differing viewpoints
Péter finds that one of the biggest issues with prefab for architects is in the conventions and narratives that dictate their tasks. Prefab can serve communities, constructors, and architects in efficient, diverse, and creative ways, but the transition needs joined-up efforts and thinking.
As prefabricated building grows more and more popular, attributes assigned to architects and their designs need revision. "I believe we need to replace the narrative of the star designer with a shift towards more humble attitudes. The focus of modern architecture is (has always been) predominantly on the building itself, rather than the surrounding it creates together with its neighbors, and we need a shift towards the latter," Péter concludes.
Read more about ArchiFrame's international architectural competition Prefab 2030 from here.