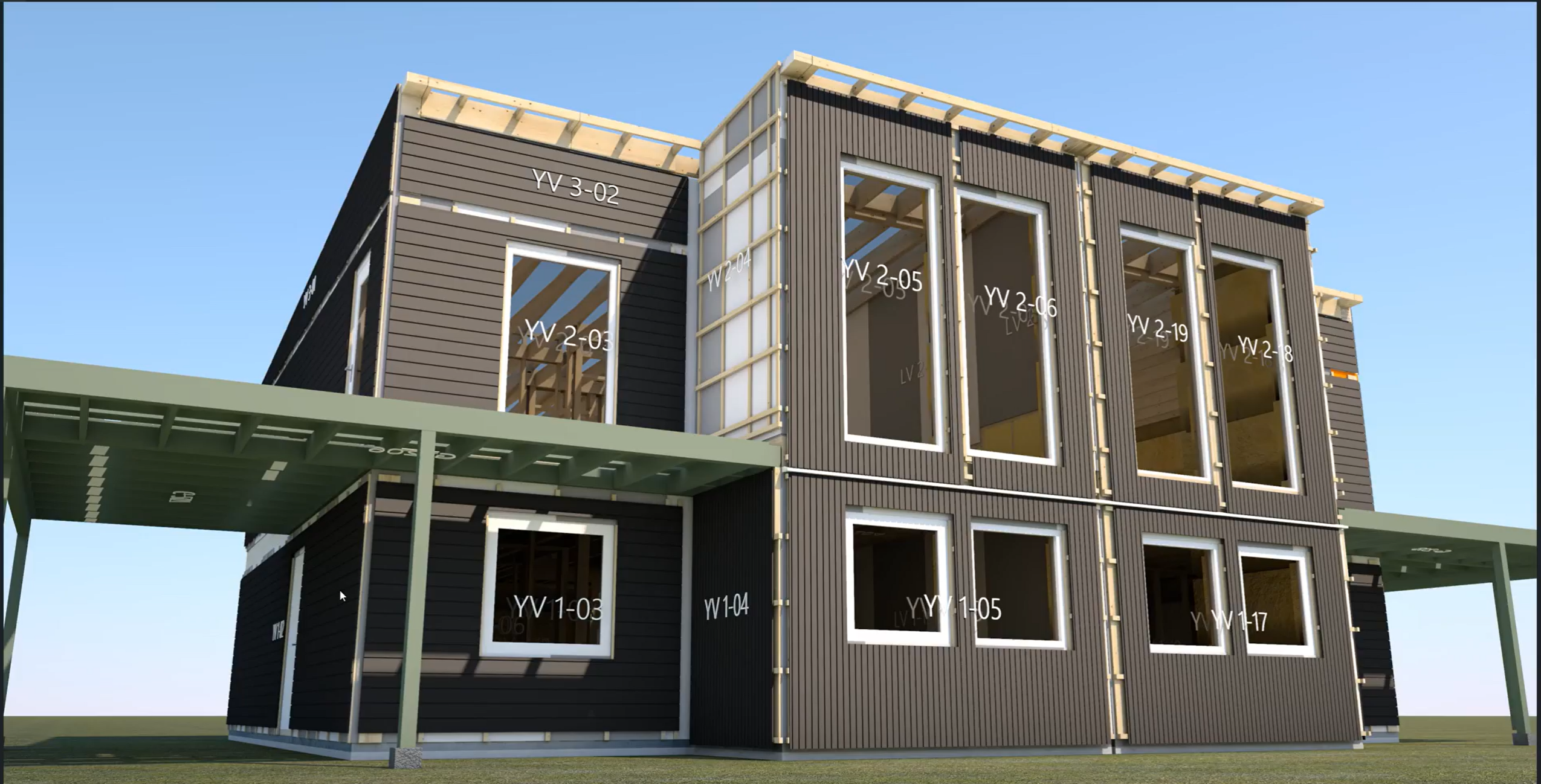 Støren Treindustri is a Norwegian supplier of wooden element buildings, pre-cut elements, and roof trusses. The Støren factory and the offices in Trondheim and Mjøndalen have a total of 135 employees. Støren Treindustri AS were looking for a new information modeling software for their element and pre-cut product drawings, and after careful consideration, they went with Archicad and ArchiFrame. Here is how they came to that decision – and why.
The right software tools for digitization needs
Technical director Per Gunnar Nordløkken is responsible for Støren's technical department, and he explains how after a thorough and extensive software selection process, Støren now has a good information modeling tool that meets the growing demands of digitization in the construction industry.
"We noticed an increase in customer and industry needs and expectations when it came to digitization and process automation. For us, using digital processes gives us a competitive edge. It was important for us that we use a software that not only 'does the job', but we also needed a platform that is compatible with other essential systems."
Stringent requirements led Støren to Archicad and ArchiFrame
Støren Treindustri used to use DDS software and as part of their tech upgrade, the team spent a lot of time evaluating other tools on the market: "We started the procurement process for a new tool some time ago. In the end, the final choice came down to Archicad and Revit, of which Archicad was chosen. The decisive factors for us were the valuable insights from Nordic BIM Group and the recommendations of other industry players. So far, we have not had to regret the choice we made."
Nordløkken says that he himself is a demanding customer who demands customization, but hopes that in the future many others in the industry will also benefit from the new features developed.
"We are a demanding customer: we ask for a lot. We need to be able to implement a range of special functions required for our operation to remain efficient. These are largely based on automation, which significantly speeds up planning. Although we are still working on getting everything in place, we can already see Archicad's flexibility in both digitization and project management. The feedback from the structural engineers who have been part of this software change have said that they are satisfied with the change."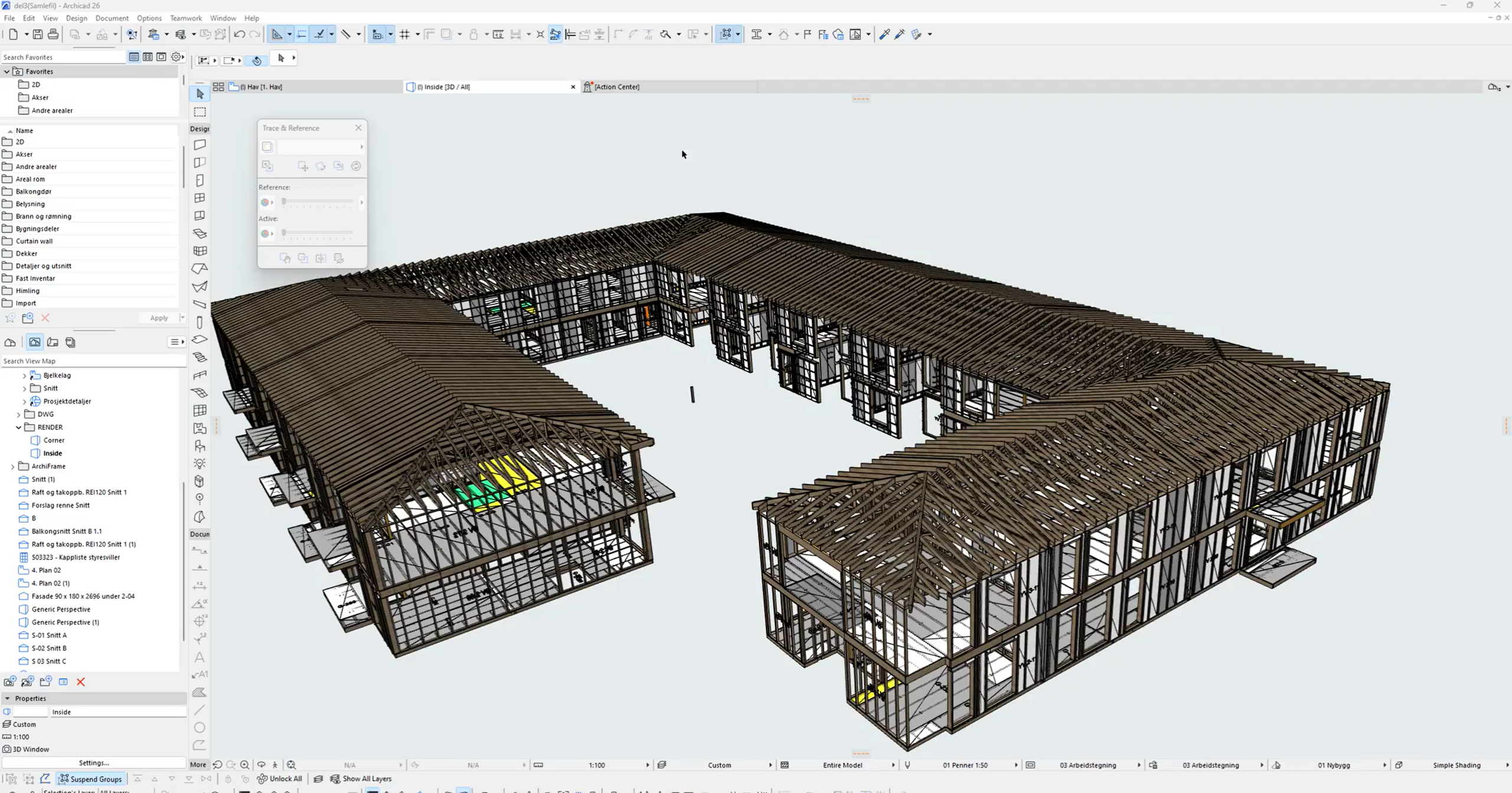 The future of building is in the "one model" approach
Støren has recently delivered an apartment building in Stjørdal, a project of over 850 elements that used Archicad and ArchiFrame. One of Støren's success factors is their own professionalism.
"A good tool requires skilled users. We have those skilled users at Støren: skilled modelers and data processors, good at testing what works and what doesn't, and reporting on it."
Nordløkken himself sees the most significant change in how projects are carried out is the fact that now all project participants access the same model from start to finish: "In the future, we see a process where everyone works as one project group, simultaneously working on the same model. E.g. we get an IFC model from the architect, we open it with Archicad where we can create wall structures according to our/ the customer's standards. We can then use this model for quantity calculation and pricing, as well as for real estate and other product information management. The technology has already been developed, now it's just about adapting and implementing the right methods and processes."
Kristoffer Sandbu, CEO of Nordic BIM Group Norway, is pleased with Støren Treindustri's feedback: "Støren Treindustri is one of the most respected and well-known operators in the wood industry. The fact that an operator like Støren, after thorough tests, sees Archicad and ArchiFrame as the best suited and most flexible for industrial production, strengthens our position as a leading supplier of digital services and products in the wood industry. We are pleased to continue the implementation together with Per With Gunnar and the rest of Støren Treindustri's team."
Check out our Støren ArchiFrame case study here.
See more details in Finnish here: https://www.nordicbim.com/fi/uutiset/storen-treindustri-valitsi-archicadin-ja-archiframen