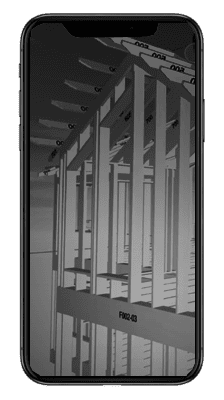 BIMX FOR ARCHICAD & ARCHIFRAME
Use a BIMx model to view 2D and 3D ARCHICAD and ArchiFrame drawings and models on mobile devices, tablets, or even your browser; without having to open ARCHICAD. 

BIMx is a quick and easy way to present drawings and models to clients, check wooden elements during the production process, or take drawings to a building site. 
GO PAPERLESS WITH THE BIMX APP
Portable drawings and models reduce errors and cut down on costly printing
Interactive format gives added context to 2D drawings and 3D models
Easy to use app allows you to define your own views and settings
Great for element manufacturing, on-site analysis, and client presentations
BIMx is free to download from Google Play and Apple's App Store

BIMx clearly shows the relationship between 2D drawings and 3D models: ideal for clients who want the benefit of 3D models without using ARCHICAD, or need more context on 2D drawings. 

BIMx is also great for ArchiFrame users who manufacture elements: eradicate paper and zoom in on details to reduce production errors. 

BIMx can also be used on-site to examine features: check 3D diagrams of individual elements, confirm element IDs, and zoom in on complex details like valley rafters to understand a building's individual geometry. 

When creating a BIMx model in ArchiFrame define what you want to be visible: floor plans, section views etc. Zoom in on individual planks and columns whilst preserving the wider context. Include notes and labels and publish your BIMx model online for easy sharing. 

More details on how you can use BIMx with ArchiFrame in the video below: